VIP PLATINUM ACCESS TO THE PROMENADE PARK TOWERS!
Sign-up Today to get Platinum VIP Access to Pricing and Floorplans!
(First Access to Unit Selection and Best Pricing)
CONDOS FROM THE HIGH $300s
Thornhill's newest fashionable address with direct access to the Promenade Shopping Centre
PROMENADE PARK CONDOS TOWERS INFORMATION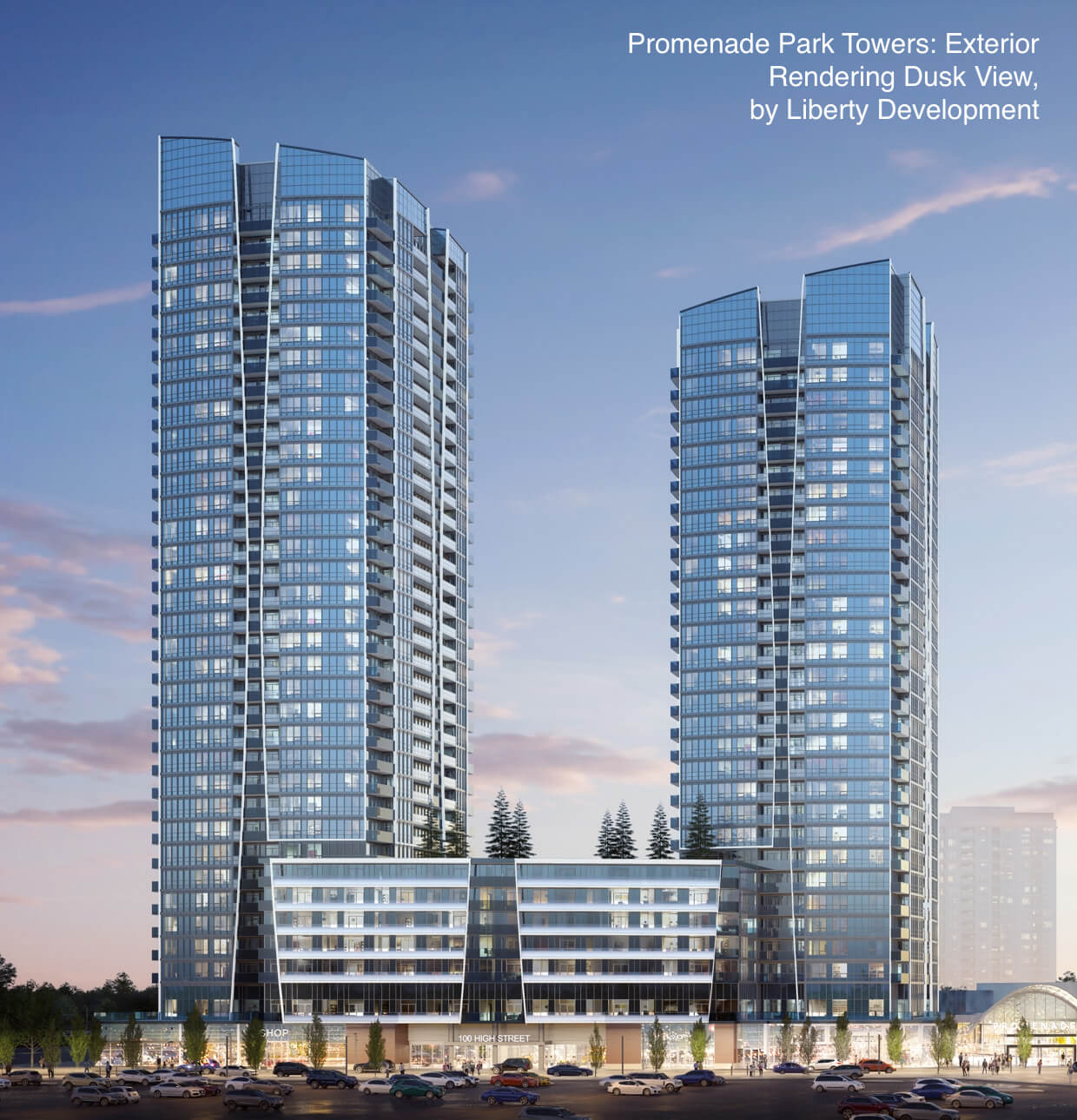 Project Name: Promenade Park
Condo Towers
Building Type: Condominium
Address : 1 Promenade Circle,
Thornhill
Developer: Liberty
Developments

Architect: WZMH Architects
Number of Storeys: 35, 30, 28, 28 storeys
Number of Suites: 1,066
Parking Price: Request

Prices: Request
Maintenance Fees: Request
Suite Size: Range Request
Promenade Park Towers is a master-planned community with all of life's luxuries so close to your home. Promenade Park Towers features a 20,000 sq. ft. outdoor green roof terrace, stunning amenities, easy access to transit and conveniently close to trains and parks.
The project will include one-of-a-kind mixed-use facilities and premium residential suites, which will come together in four immaculate towers. Three residential towers will boast expertly designed one-, two-, and three- bedroom suites. The first three towers will be standing at 28, 30, and 35 storeys tall, totalling 1,066 luxury suites. The 4th tower will offer an incredible 1.5 million sq ft in usable space, and will include office space and a high-end hotel!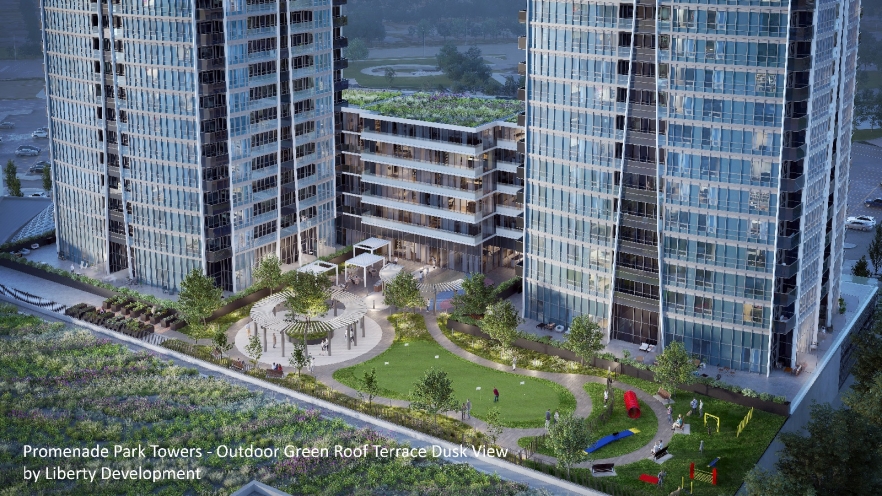 Thornhill is a thriving upscale neighbourhood conveniently situated on the northern border of Toronto, centred on Yonge Street. It is part of the Regional Municipality of York, split between the cities of Vaughan and Markham. There is a lot of investment potential in this region. Not only is there is a relatively high average household income in Thornhill, it is a fast growing town with a lot of impressive work prospects. it is very a family friendly city, offering a lot of recreational and extracurricular activities for adults and children. Thornhill has gained a reputation of a thriving and popular community, and highly sought after by families and young professionals. It is perfect for those seeking to balance the energy of the city with the bliss of a safe, family-friendly residential community. You will be surrounded by excellent schools, parks, libraries and recreation centres.

Thornhill's Promenade Park Community
You will have direct access to Promenade Mall, a regional fashion and community hub located in the heart of this upscale Thornhill community. The mall offers 150+ stores and services for you to enjoy including premium brands like Coach, Aritzia, Lululemon, Pandora & more. The mall itself will also soon undergo a complete transformation, as well as see changes to the surrounding area including, the introduction of the Promenade Park condominium towers, a mixed-use building with offices and a hotel, a spacious pedestrian area and other outdoor space. The residential towers, together with the existing mall and the new office tower, will create a full and well-rounded community in which people can live, work and play!

Direct Access to Promenade Mall
These towers will be conveniently located steps away from TTC and YRT Bus Terminals at Promenade Mall, with service connecting to both Finch and Downsview subway stations and the Vaughan Metropolitan Centre (VMC) subway station. It is also 11 Minutes from the York University GO Station & the Langstaff GO Station providing you access to both GO Bus & GO Train services across the GTA region.

Conveniently located minutes from four major highways (400, 401, 404 and 407), which will allow for ease in travel throughout the GTA.
Located 15 minutes by car or 30 minutes by bus from York University, which is the third-largest University in Canada and home to over 53,000+ students.

Liberty Development Corporation is an award-winning full service real estate development company. It is a leading development manager of commercial, office, and residential buildings in the Greater Toronto Area. The principals of Liberty have over 30 years of hands-on experience in the development and construction industries.
Over the past few years, Liberty has created diverse housing styles from single-family homes and townhomes to high-rise condominiums, as well as many notable commercial developments. In doing so, Liberty has been careful to preserve and enhance the communities it has developed and maintains strict design standards in all of its projects. Liberty brings expertise in land assembly, development, design and construction, sales, leasing, and property management. It maintains excellent working relationships with various municipalities as well as professional consultants and trades involved in each project.
Copyright © 2019 All Rights Reserved